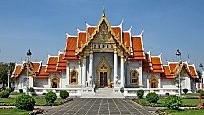 11 new pictures of the Marble Temple.

1987 was my first visit to Thailand and Wat Benchamabophit or the Marble Temple was the first temple I have ever seen.
Now after 27 years, I have visited the temple again.
The only thing that has changed are buses full of Chinese people.